FairShares Model
to social enterprise development. Each lab will develop a process for incubating FairShares ideas (using a planner) and providing education (using a FairShares e-Learning and Exchange tool).  In 2017, ECOSynergy was replaced by Zöld-Aktív Social Cooperative, and started working with the other five partners on pilot projects that will run throughout 2018. The results of the pilots will be presented at a conference in the middle of 2019.
Download a brochure about FairShares Labs in:
Download the project's methodology for supporting the incubation of FairShares enterprises
Download our 'Country Context' reports to learn about the environment for supporting FairShares
Download our series of case studies which have been evaluated against the FairShares Model
Project Introduction
Idea workshops, incubation workshops and planning workshops will be combined with coaching support to help groups prepare a
FairShares Canvass
that outlines their FairShares Plan.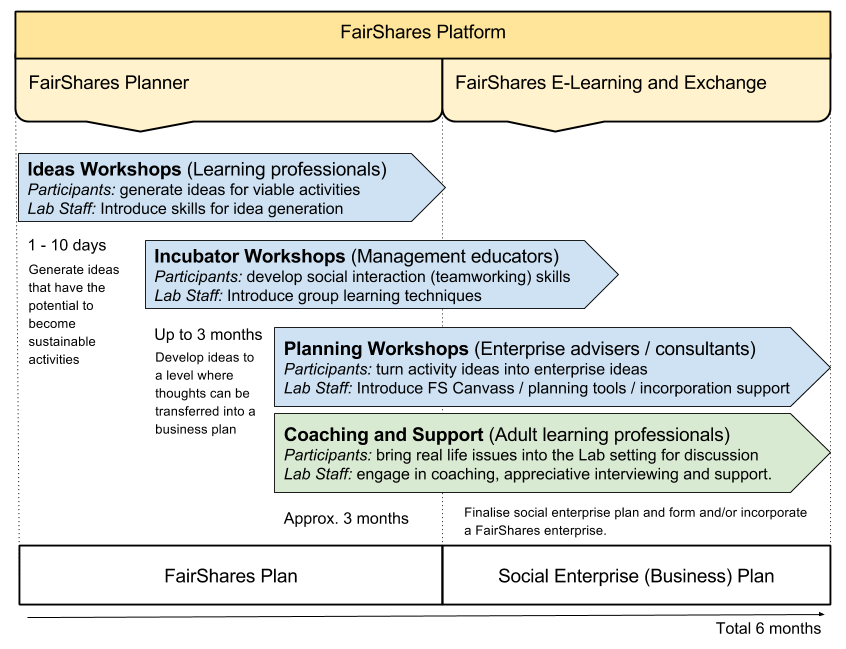 A test version of the FairShares platform can be accessed at: https://fairsharesplatform.eu/
The labs bring together three elements of the FairShares Model: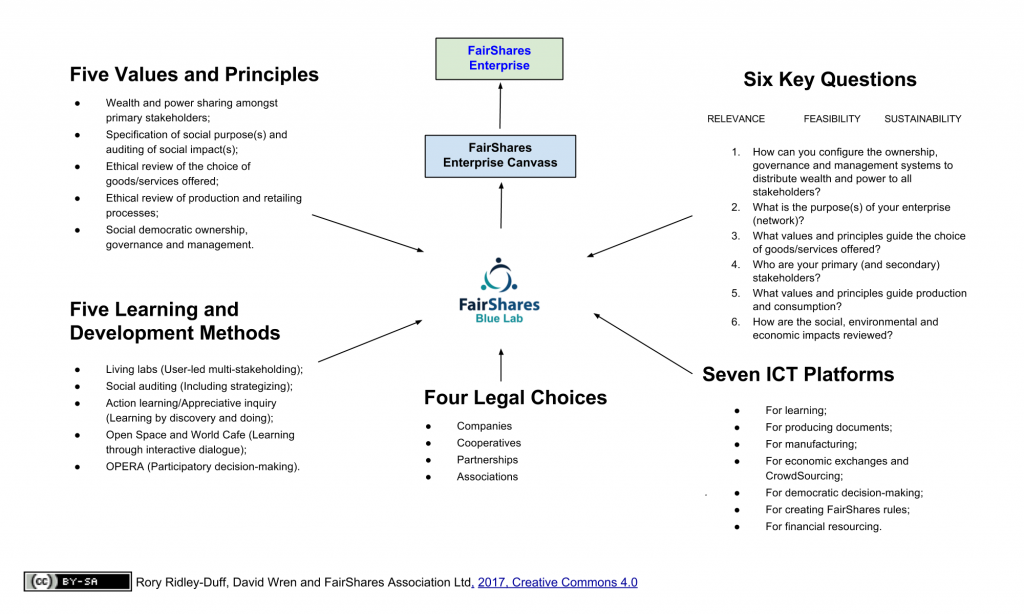 As participants develop their work within a FairShares Lab, they will answer questions about their FairShares enterprise. The
FairShares Canvass
helps participants understand the relevance, feasibility and sustainability of their ideas and turn them into social enterprise (business) plans
Social Enterprise International Ltd has a sister enterprise (SEi (FairShares Ltd) through which it organises its trading activities. It co-founded this company in 2012 with SEi Directors Cliff Southcombe and Rory Ridley-Duff to initiate work on the FairShares Model and support EU projects. SEi (FairShares) Ltd is the world's first ever FairShares Company and it reconstituted itself in 2018 to align with FairShares V3.1. In 2016, SEi Ltd's work on FairShares dramatically took off when six partner organisations (VSBI, Social Enterprise International, ECOSynergy, Elephant, SLAP and KophHandUndFuss) bid successfully for an EU grant to set up FairShares Labs that apply the